H
ello
E
veryone,
Its that time management time again with some minor banter about how my project is going thus far,
creative partners do not worry I will fly over your blogs today
. I have just been trying to catch up on a few other things so apologies for the delay there. I have established this far that I have to get into my character mode a little more which I will be doing from tomorrow onwards.
I will then be getting into my cars a little just to get some sketches together for the magical green light moment on Friday.
I aim to be modelling by the end of the next week or so which will give me enough time to get my 3 characters fleshed out
(Driver, Day Car, Night Car)
.
I have turnarounds to make after getting into a little more of the concept phase which is why the modelling process has not happened sooner.
Once I have them built there is the basic UV mapping and poly-painting.
I will be posing the driver with his cars for a group shot and then also have the individual models ready to use in a games engine.
I have triangulation to explore with and hopefully in the next batch of Maya videos, these will help me later on when I get onto my games meshes
so I really will be getting into that soon, defiantly before I model my own games characters.
The terrifying task board, for Unit 9 Part 2 is shown above this unit will consist of
3 - 5 week periods so you may have to ignore what I typed on the first time management post.
I have only experimented with some stage 1 concept not been into the cars yet but that will be happening before Friday so I have something to post for the green light on Friday.
Everything here is much more spaced out which is how it is best achieved,
when you start getting more things in one day you find yourself snowballing the tasks down days and no one wants to be there trust me lol.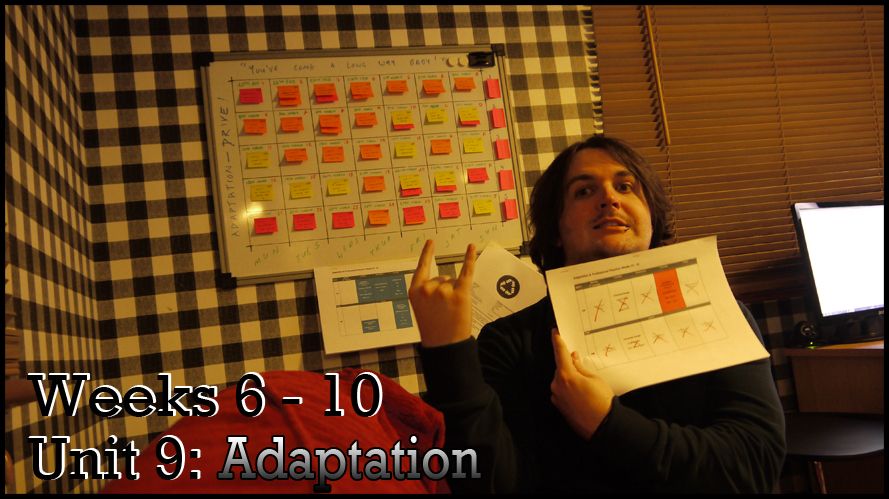 This is me holding the previous section of time management
(part 1)
which is our time table, I generally cross them out day by day and then I reassess what is left for the next part of the time limit.
In this case I have 3 parts of time management because we were given 15 weeks, my task board is based on 5 week increments and thus 3 weeks
but its nice to post a small update just in case people were wondering if I was messing around other then actually working.
These time management images have become rule of thumb for me I used them before the course on my company blog.
Anyway that concludes this little post, the next thing I put up will probably be my presentation for our dissertation on Wednesday.
I have planned this as well as I can I just hope I can really get the juices flowing from this point onwards.
I really have to get into my character development a process I usually find difficult, as I've said before its usually difficult when your idea can be anything. I like the process much more when everything has been decided I can just crack on and get it out there.
Its then just up to refinement a process which I love because it really can look amazing.
Take it easy people!
xXStItChXx