H
ello
E
veryone,
Here is a sample extract from my latest contribution (05/10/13) direct from
Polydoodle Pictures
Studio Blog.
The image below shows Barnabas Badgersworth's Dummy form poses based on reference starring.... ME!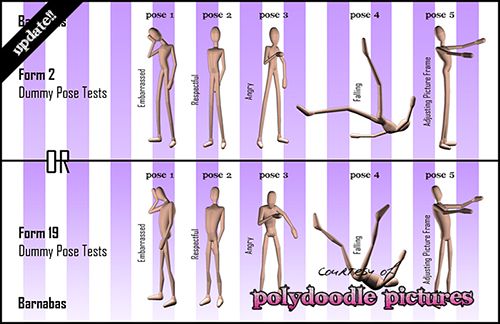 EXTRACT
"The image above shows two forms which we were stuck at a crossroads with for Barnabas's form at a base level. From a front perspective the proportions merely look to be the only obstacle (check out Barnabas's base form post here). In truth at this point I was outnumbered 2 - 1 by Chrissie and Sammy on the base form for Barnabas being Form 2. It wasn't until I showed them how form 19 and 2 looked while posed that got them to reconsider Barnabas's base form. I don't like to toot my own horn but this just goes to show that posing these primitive forms helped us agree on the basic anatomical proportions of Barnabas. You can sketch it, but I modelled it, roughly."
Check out the full article here >>