H
ello
E
veryone,
Here is a sample extract from my latest contribution (29/09/13) direct from
Polydoodle Pictures
Studio Blog.
The image below shows Barnabas Badgersworth's 3D form variants figures 1 - 5 (out of 20)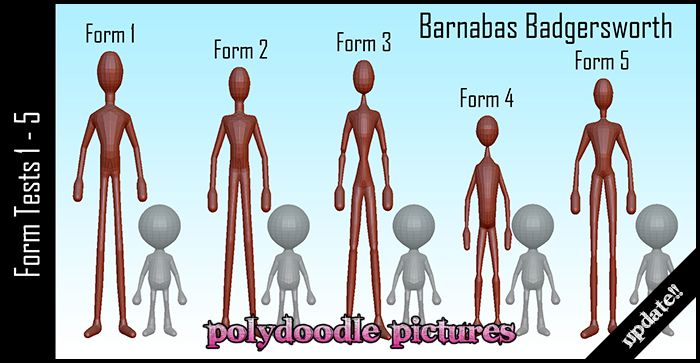 EXTRACT
"Form tests 1 - 5 (shown above) were based primarily on Sammy's original design for Barnabas click
here
to see the original art of . It was Sammy's original design which suggested long legs which were smaller as they came into the body. As we got to Form 5 I started to spread his pelvis a little more to contrast it with the broader shoulders. I was trying to keep him masculine by keeping the pelvis smaller then the torso. Of course I underestimated the shoulders... Still Form 5 here is probably my favourite from this set of forms."
Read the full article here >>