H
ello
E
veryone,
Here is a sample extract from my latest contribution (26/09/13) direct from
Polydoodle Pictures
Studio Blog.
The image below shows a ZDummy model. This rough model can be adapted into any base form.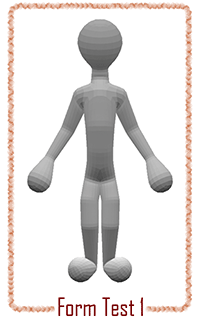 EXTRACT
"I have a turn around render of "Form Test 1" which basically just shows the dummy at its current state. I would just like to say at this point that all of these features are easily modified. From the theory above we can easily make the head bigger the arms shorter, the hands smaller, the calves thinner... all at a base level to easily find the right anatomical form for Benjamin. This can then be adapted into another form to find one of the other characters. Once a form has been decided sketches and other accompanying poses could be explored..."
Read the full article here >>