H
ello
E
veryone,
Here is a sample extract from my latest contribution (05/11/13) direct from
Polydoodle Pictures
Studio Blog.
The image below shows 10 of my costume tests for "& Son's" character Benjamin Badgersworth. It's a mini wardrobe animation as I like to call it ha-ha.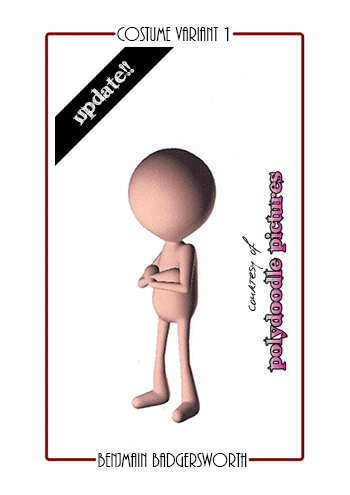 EXTRACT
"I created this from 4 full costume variants, I interchanged certain elements of the image to get 10 alternate costumes from my initial 4 (e.g. mixing a hat with another costume or a different bow tie with shoes, etc). What I got was a variety of different styles which certainly cheered me up only having 4 colour variants (I wish there was time for more but I have to get cracking on the others). For now though I think this really gives a good selection and if anything is preferred we can address it at a later date... From what I know the suits are pretty much decided... I mainly wanted to play with size and colour..."
Read the full article here >>