H
ello
E
veryone,
Here is a sample extract from my latest contribution (18/11/13) direct from
Polydoodle Pictures
Studio Blog.
The image below shows 10 of my costume tests for "& Son's" character Bernard Badgersworth. These are a couple of alternate costume ideas.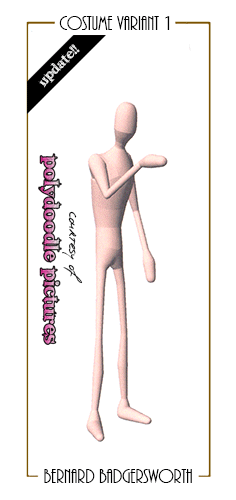 EXTRACT
"The image above shows the little costume wardrobe animation that I have been accustomed to making for this Unit. The costumes are made from 4 variant costumes which are broken into parts and then reassembled to create different variants. I use this to create 10 additional variants from the primary 4. This allows me to explore the idea of what Bernard could be wearing and what colour combinations may or may not work. These costumes are all tested on a Bernard's early dummy form which was chosen by the Polydoodle Team to base him on at a structural level."
Read the full article here >>