H
ello
E
veryone,
Just bringing in another update, the week 3 animation class
(which I wasn't present for)
I was told of the homework by Jojo
(thanks Joe you rule)
. This was to establish
our setting
and
the 3 key scenes
of our narrative, the scenes I roughed out - at this point I wasn't sure where to go. Once I got cracking on establishing the setting the story began to unfold.
If you notice my storyboards are much tighter this time round also, I really managed to embrace the story after establishing my setting, it was like the missing piece of the puzzle. I can quite frankly say my storyboarding skill has most certainly improved...
Anyway lets get onto the animation homework...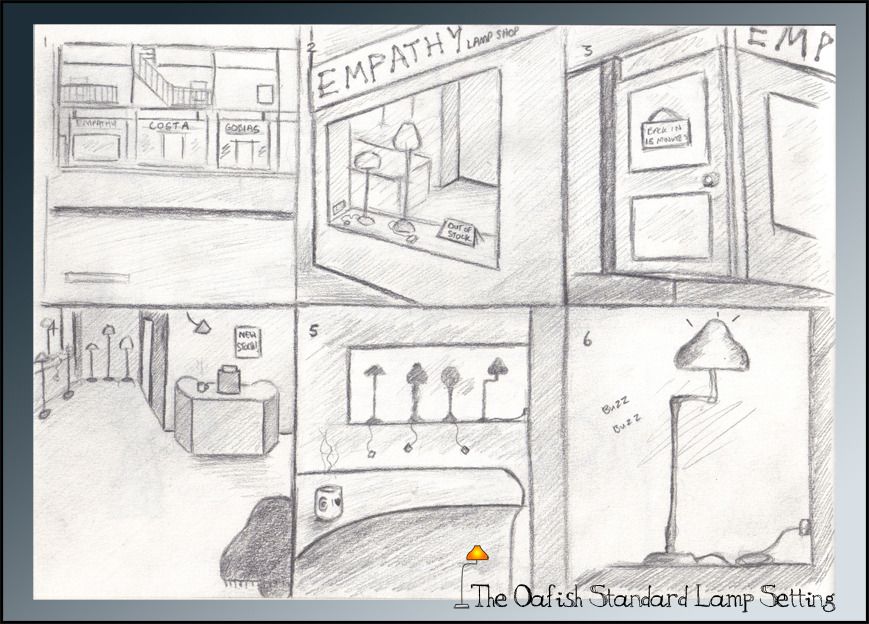 The image above shows my establishing shots for the "empathy lamp shop". I really felt proud of these images, prior to this I had no idea where to take the story, I was constantly myth ed and wondered if the story I had penned could even work. These images helped me isolate what was key, what made the store work.

The image above shows my
3 primary scenes
of the animations narrative. This aided in understanding my story, I didn't want to be precious with time on this image, I just thought what I wanted and threw it onto the page without too much thought
(in the space of 10 minutes)
. It made me understand what was important, what was key:
"A lamp awakes - and trips over, its humiliated so it takes its aggression out on its plug and rips it from the wall causing a fire".
Well this should conclude week 3 of our animation classes, again I am kind of gutted I wasn't there. My stomach always picks the best times to mess me about
(which is alot nowadays sadly)
. Still, at least I did the tasks required and they actually helped me here so they were more then appreciated.
I guess this concludes this little post, again hope all are having a good Easter, I might go to bed in a minute :P
Take it easy!!
Over & Out,
xXStItChXx