H
ey
P
eople!
I have been putting off this post, I guess because my mind is still a little glued to this project but the show must go on.
For this project I set out to prove...something maybe that I still had a little magic hidden in the joints of my bones.
I have done 45 posts for this Unit and racked up an insane image count on photo-bucket
(204 images - my personal best)
.
My video count on YouTube has gone up 50 videos some fair play are Maya tutorials but you only really have to deduct 20 for that meaning I created 30 videos for the
"Short Drive"
project alone...
This is probably my largest submission to date and boy did I feel it ha-ha.
I guess this Unit absorbed me a little more - kept me in check but now is my opportunity to kick back and relax a little.
I still have a number of things going on over the summer - one being fixing my dissertation stuff as my grade from the proposal didn't satisfy me.
I also have a couple of projects with my little games company so hopefully we will get something nice knocked up for those.
I even have a little experience at a games company in London... looking forward to that :)
Anyway, I give you the end of Unit 9: Adaptation...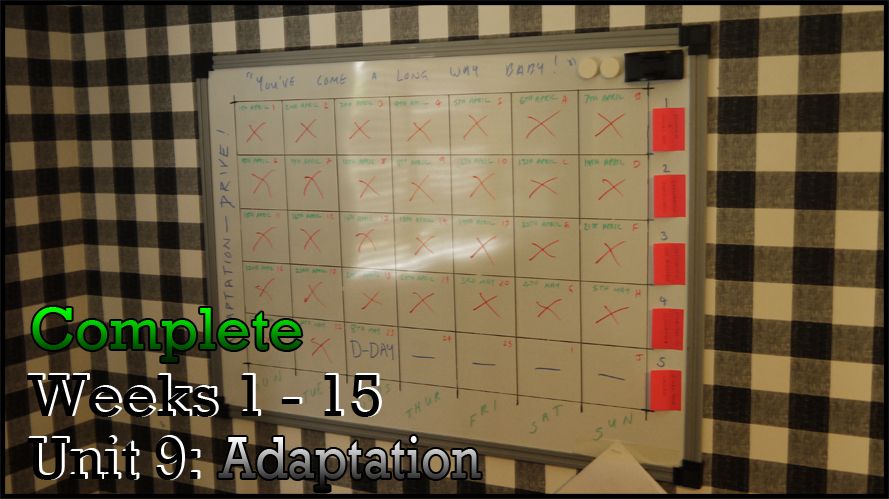 It has been a long 12 or so weeks since this project began, I got started a little late due to some personal concerns but I clawed my way back.
The timeline was briefly extended on the board when I found that we had been given an extension beyond the original deadline day. Its actually kind of lucky that happened I'm not sure I would have had everything done in time otherwise.
It's still kind of hard to believe that I am now over the half way point of my degree.
It only feels like yesterday when I was hitting my head against a wall trying to do 750 drawings for my
"Oafish Lamp"
.
For the most part I got everything done, I am still a little gutted that I didn't achieve the Maya Tutorials for a second term.
I used to be so organised with them I guess I just keep getting carried away with the projects.
Never mind though I will do the ones I missed over the course of summer and post them up on here. Before then though I will be taking a bit of personal time, I would like to see my dads plaque at some point which is at a golf course.
I am going to have to play a game
(I suck at golf)
but I'll do it to salute my old man on the anniversary of his death...
Do not worry though I will be back before you know it hopefully with some more cool developments on various creative exploits.
I even have a particular project in mind for the final year of our degree but I have yet to finalize it. When I have more to share on it I will give everyone a heads up but for now wait patiently
(that's if you care ha-ha)
.
I still have to send some high definition renders of my Driver to Phil at University for displaying him in all his glory.
Don't worry Phil I haven't forgotten I just had to get these other bits out of the way...
Anyway stay cool everyone,
Enjoy the Summer!
xXStItChXx