H
ello
a
gain,
I said I would be back and here I am once again only now talking about a different character altogether
namely my K9 sidekick Banner
. I didn't want to Jinx having something very obvious like a parrot or a monkey both have been done and
if anything they are gimmicks not really fit for serious horror
(which is what 10 waves is)
. Banner is the human aspect to this story, Clare is an emotional wreck dealing with her lost lover who has become machine and
she is in danger of becoming one too...
Banner is the stable ground and helps her control herself when she loses her mind completely
and fires out chains in sheer anger.
She realises she is a monster when he is as scared of her as he is of her love interest
"Peter Creek"
a.k.a
"Pete the Creek"
. I had even imagined a concept involving Clare fighting Peter with her chains and the dog is scared of both of them... Powerful stuff and alas
very dark... Very me really.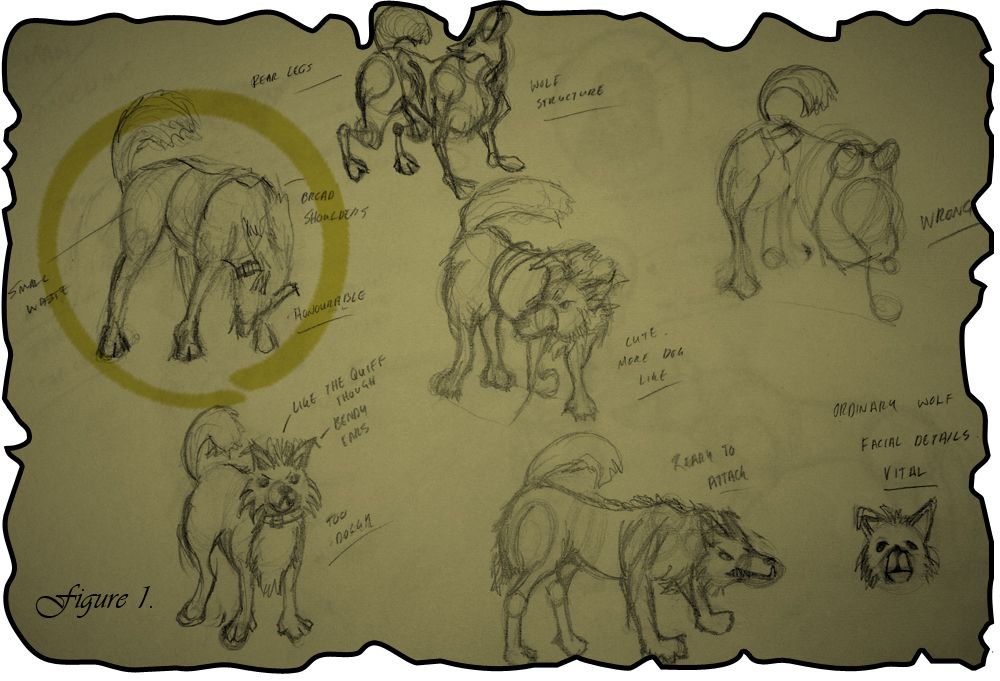 Figure 1
shows some of my exploration for poses for the little tyke...
I even wound up trying some other forms rolling in Dogs to the theme of wolf
. I wasn't sure but I found the strength of a wolf to be more domineering much more dependable and pretty scary... I also saw the shoe on the other foot,
something would have to be pretty terrifying to scare an overprotective wolf
lol. The yellow ring shows my favourite. I was trying to roll a
kind of costume on him but everything looked out of place as you can see...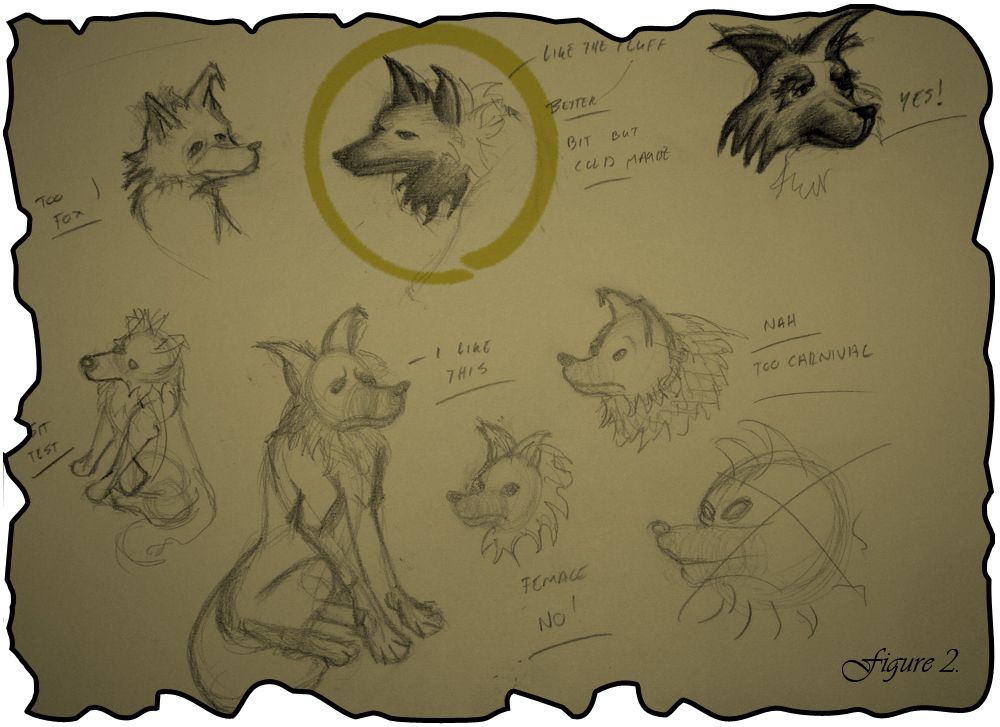 Figure 2
shows a few of the facial experiments I did for the wolf... My very first looked like a fox please look closely if you don't believe me
(top right)
. I then had a play and liked
making him look older or wiser but I wound up settling with a cool look... young and strong
. It just worked and when I started shading I knew that was the way I wanted it. It also allows itself to the comic book theme I applied to Clare and thus worked overall...
The tests surrounding the page show how I got there with a rather ridiculous clown dog as one too lol.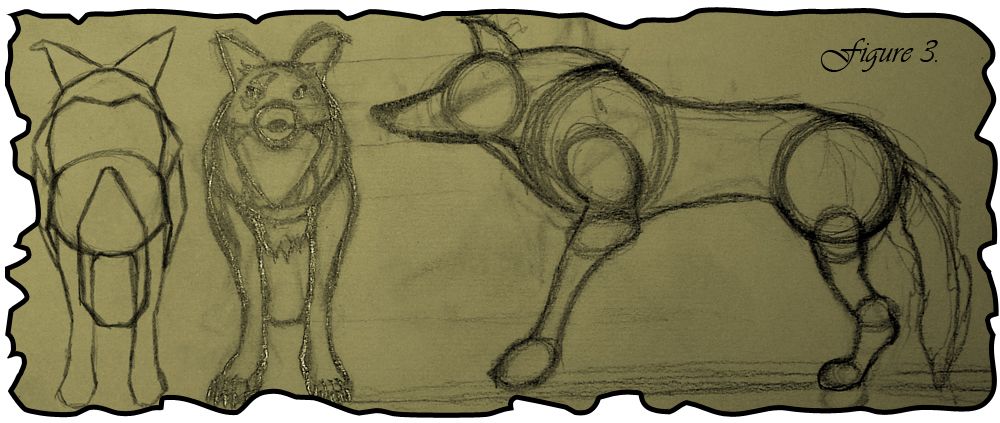 From these I managed to knock out a rough turn around of the wolf
(Figure 3)
... Not much different from any other I found it rather difficult to differentiate a normal wolf from anything. I guess
I'm just not used to drawing animals really
. Still it was nice to see how the components eventually fit although I have a feeling the back leg is a little too small I might poke that up a bit or make his paws bigger.
I began detailing the front with some decoration not sure why I guess I was just curious...
Well I think that concludes this little post about Banner
, I have cleaned most of these turnarounds up but as I said they will come in time...
I'm just getting through all of the development and placing it in order so that there is no confusion to anyone looking at this blog
. As the brief states I have to show progress my creative adventure throughout the unit so I am doing that by going through and crossing all of the T's and dotting all of the I's...
Anyway I have another post to go before bed...
Pete is up next so yes if you are interested don't go anywhere if you are not then go to sleep like the sane majority of the world... I will be there very soon (I hope). I'd also like to apologise for the
muteness of some of these pictures I took them with a camera so the flash reflects the pencil markings grrrr...
Later!!
xXStItChXx