H
ello
E
veryone,
Sorry for the delay on these,
some of them were not inked so I had to go in and touch them up, then I kind of got carried away detailing with temperature zones of the face
. Anyway I provided a couple of alternatives that I was also considering at the time in addition to my final faces. This way I can show my thought process and they link up to some of the previous sketches I made and posted up. I have also put certain passes that go over the top of the basic colour
(as I mentioned above - temperature zones are one of them)
.
Sadly this did not apply as much to the wolf but I decided to put a light pass over the top of him to really punch him up.
All of the drawings were originally little sketches which I brought onto the computer adjusted and then inked
, the main ones were combinations of other faces but I did use anatomical reference to get them as close to real as possible. This is what took quite a while but
I am happy with the results and can say that they work on the final renditions of my characters.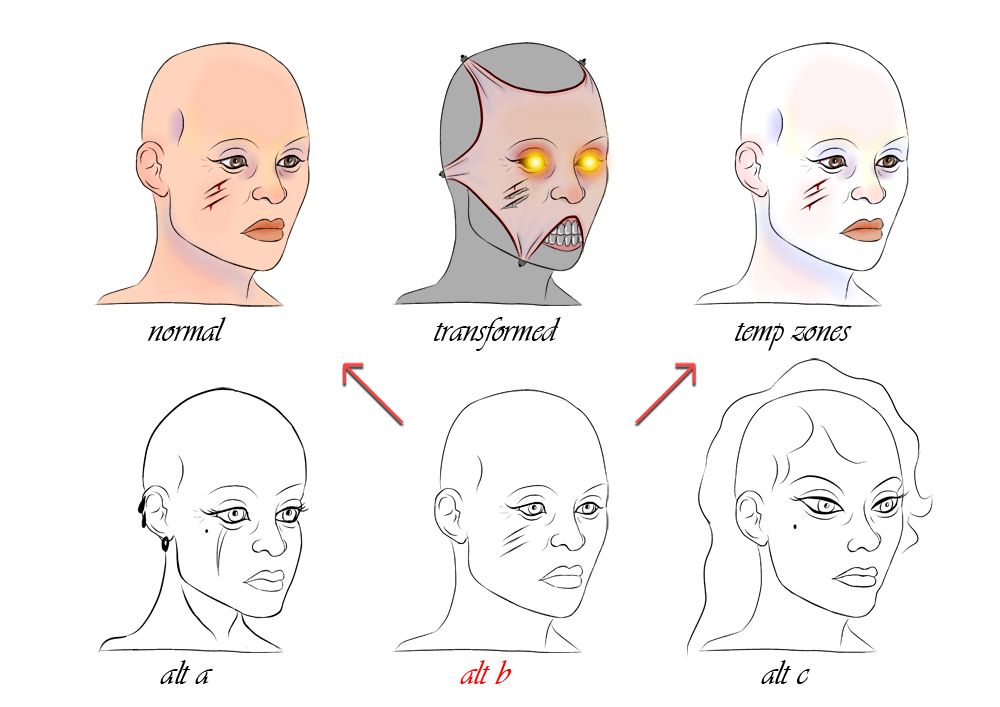 The face tests for Clare
(shown above)
began initially with the alternate drawing, the lips were a transferable product, the eyes didn't work for me at all but the ear was probably the best one I have ever drawn lol. Alt a had the perfect eyes I wanted,
the earrings were a test because I wasn't sure but I may add them as a last minute addition not sure.
The scratches on the face of alt b were originally the scar in alt a, because this cut is a bit cliché
I decided for some little scratches on the cheek to show some distress I lost the little beauty spot too, just felt wrong for a pirate/treasure hunter.
The transformed image at the top was what I envisioned her to look like when fully transformed into the monster Peter Creek wants her to become...
Banner's face
(seen above)
was a little more complicated, as I mentioned I don't really do K9's or animals so finding something that worked here was really difficult.
I kept underestimating the size of the skull and the shape.
Things in this case began with alt c which appeared more gentle, I wasn't sure about this however mainly due to the nastiness of my story. alt a felt too soft but
I liked the nose so I brought that into a straighter point and got focusing on a more serious version of banner.
This created alt b which I went with in the end. I even flipped it to show both sides work, I added some basic lighting to the
3 final images at the top and altered the colour underneath to consider other options.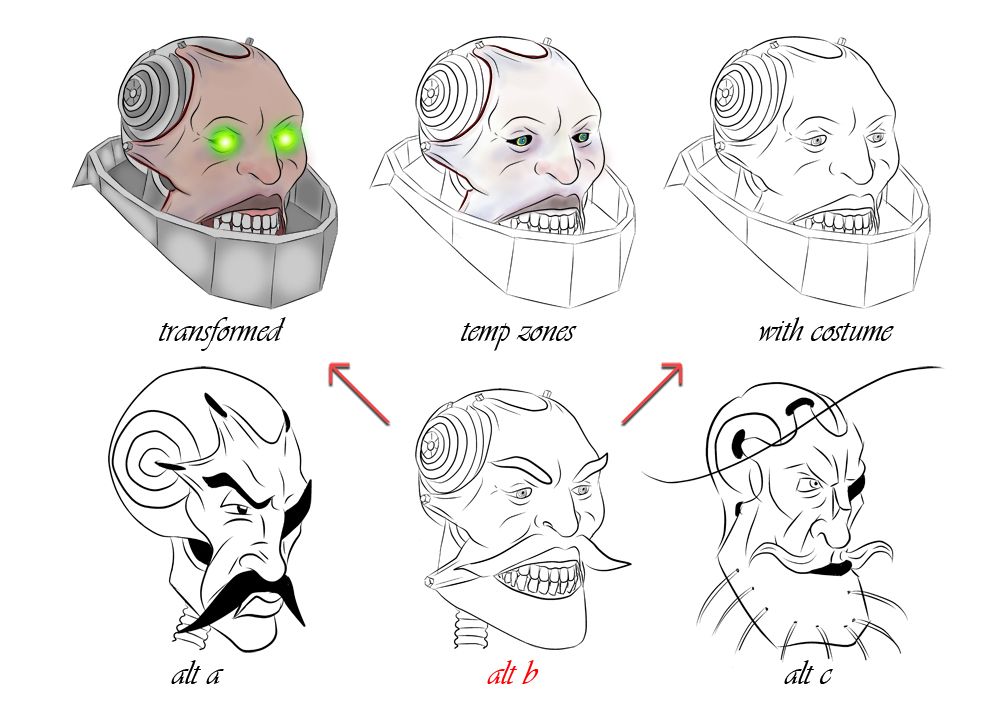 Pete's face had been decided a while back especially after I had constructed Clare's
, I really wanted them to read as real as possible with a little creative flare. As everyone knows alt c was my initial rough sketch which is why I posted it in here
I kind of fell out of love with the eye patch when I placed it on alt a.
That's when I realised I wanted to see both eyes a patch is a bit of a cliché anyway and I really wanted him to read as a treasure hunter
more then a pirate
(no wooden legs or eye patches)
. When placing the colour it was difficult to see the hues as I wanted the face to be more dead then anything so I darkened it down, there are some light hues as you can see from the temp zones image.
Underneath the bulky armour is just machinery, as much can be seen in alt b.

My final face choices can be seen above,
there was a point where I was going to draw the normal peters face but I just got pushed for time so I kept it to his transformed state only.
Suffice to say this is how they would all look for the duration of the short or whatever, Peter comes into the story transformed
, it is only established later that he was once a man and that she is capable of becoming like him.
The trusty Banner is there to protect the lost and confused Clare from herself
as much as others. I even envisioned a scene where Clare completely loses control and its only seeing his fear of her that she realised what she was capable of becoming.
This attribute astonished me and was the basis for the story
(which I contribute mainly to moral choice games such as Mass Effect).
Well that's the end of this post I only have a few more days to go and quite a bit more to post up about this project before D-Day
, there may be a few days of lost sleep coming up but I have to get this all in so I can begin focussing on the adaptation Unit,
I have been way to lax about that and really need to get my finger out here.
Seeing everyone else's updates though, there are some very cool goings on,
I really cannot wait to see what everyone comes up with!!
Catcha Later,
xXStItChXx