H
ello
E
veryone,
Just wrapping up the last Unit with my signature Time Management Deadline Complete Post, It is the exact same as the Unit 7 one as I am using the same post Its.
This is just the delayed post as I had an extension for the Character Unit.
This officially marks my arrival at the middle point of my degree and to think it only feels like yesterday when I was sweating away at the requirements of Unit 1. I am amazed I actually made it this far, so anything that comes after this I will have certainly proven myself to... well myself. I began really sweating things around Unit 5 when I was sleep deprived, then of course the tragedies that surrounded me on returning for Unit 7 & 8...
Its been tough but I think I'm getting back my drive so to speak lol.
The next or should I say current Unit is Adaptation which I will be talking about solely from this point onwards.
I have discussed my idea with Alan and he has given me a few nice Ideas to focus my presentation on tomorrow when I go in and briefly present what I will be aiming to achieve with this Unit.
So as I mark the closing ceremony for Character I will say that it has been fun and I just hope I didn't do too badly with it.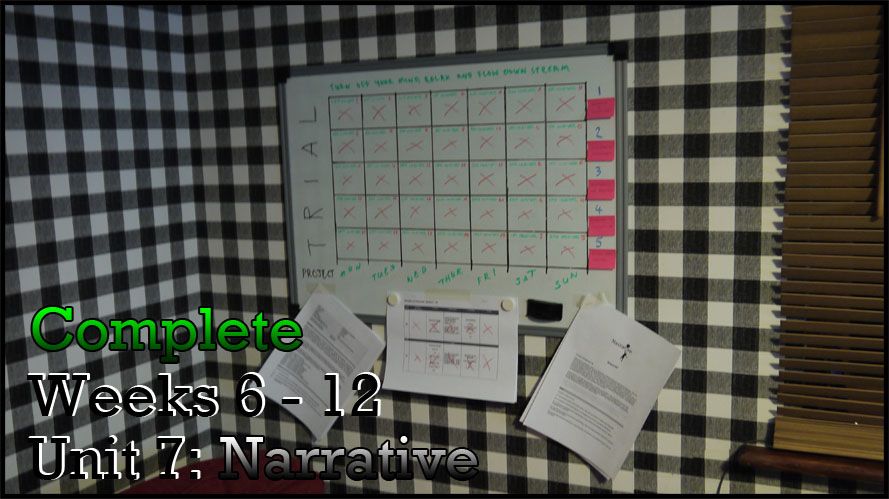 The fabled task board was set up in parts for this Unit hence why it is weeks 6 -12 just in case people are not aware from previous posts.
I am hoping that in the future we have singular briefs, I'm not saying its impossible but doing 2 Units at once was not overly enjoyable... I had the dilemma of not knowing which to prioritize and even though I had an extension It just made things more difficult at the time of the Narrative Unit. I'm thinking for forward planning
I may start writing things down more then just using the post its, I can get a little more detail that way...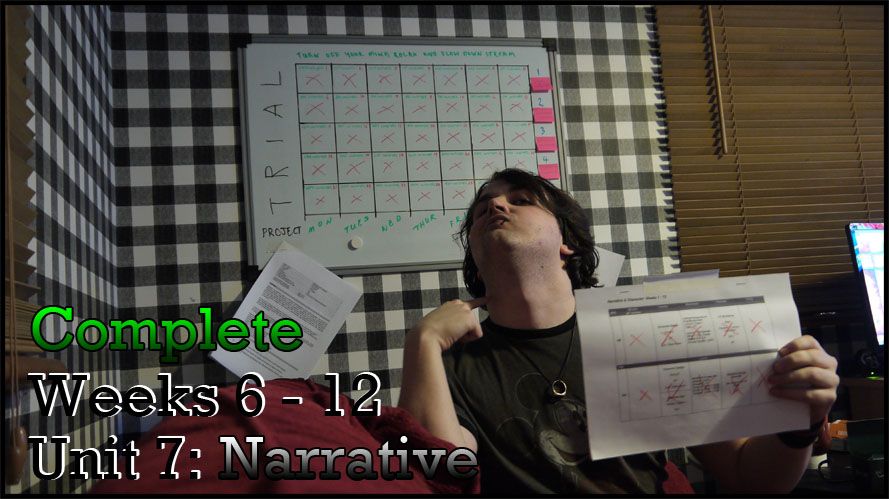 Yes the image above is me being overly dramatic but as I said to Sammy the other day I try and shake up the time management pictures with me in.
I am going to have to think up some new poses to strike in future ones. I found that I have been duplicating the same ones
(although recently they have become a little bit more sinister (hence the one above)
. Oh well. I have since scrubbed the task board and I may see if I can fit all 12 weeks on this board to save myself numerous time management posts
I don't think people need to keep reading multiple of these they are just more of a check box exercise so people know that I am on the case and this is the time I had to complete University Units.
Anyway I wont waffle on any longer I have a lot of stuff to archive and then I am right on my presentation for tomorrow.
I just hope I don't make a complete mess of everything and get the fundamental points of mine and Alan's discussions. So I will leave this post by saying goodbye Unit 7 & 8 and hello Adaptation
(not sure what Unit number it is yet)
. I also have creative partners for this one so I have to get over to their blogs at some point and do some
much needed commenting so they don't attribute me to a lazy git.
Ill see you all in the next post hopefully later today!
xXStItChXx