H
ello
E
veryone,
Weighing every ones idea of Comedy vs my own desire to do something serious is something I have been battling with today. I decided to refresh my thinking by getting to something that I knew I was doing
(aka the Unit 4 Assignment)
. I have chosen Memento as the story inspired me to the point that I really wanted to write story's.
Phil told me to look at Non Linear Narratives in order to delve into the Genre of my essay. When doing so I stumbled into numerous terms but the one that means the playing of a narrative backwards is
"Reverse Chronology"
. When doing this I reflected back to my post yesterday and thought...
"What an idea... an assassination attempt that runs backwards"
.
I then expanded into a video that I saw some time back that inspired me the moment I saw it even though the game was a total bust:
"Dead Island"
. The trailer intrigued me to the point that I wanted to know about the characters even though I hate the Zombie genre.
It was so sad but Jesus did it convey something to me. Please check it out if it doesn't touch you I don't know how else the Zombie genre can.
From this I came up with a way to use my prop my environment & my character, briefly but effectively. We are talking 1 minute here its hardly enough time to get to know them anyway. More importantly I found a way of incorporating a small element of conspiracy which I personally love
(to those that know about the Black Book - know what I'm talking about)
.
I haven't even saved the notepad but I jotted it down all the same, this draft couldn't get any more rough and beaten down. I haven't even spell checked it but I wanted to show this is usually how I work out my initial story premises. Rough cut in a notepad
(not word document)
not spell checked but they read to me how originally conceived.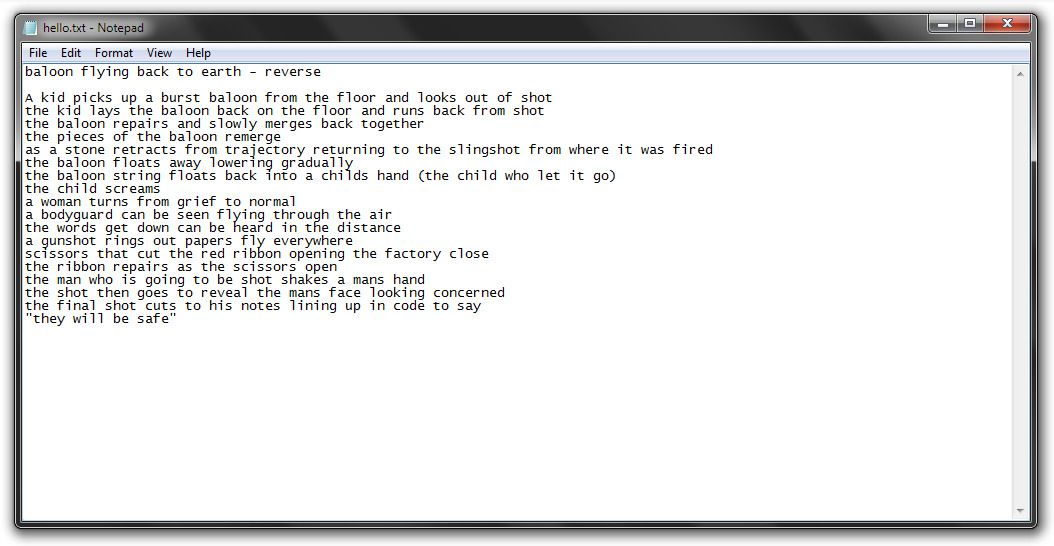 I like how this short ends as well because it leaves questions & I love that in anything. As Phil has said to me numerous times
"a hunch is your mind trying to tell you something"
. It is telling me something here...
I love the way that I'm dealing with the prop first in a completely different context its an innocent way of bursting a kids bubble
(so to speak)
, a trauma that one is never likely to get over. I love the way the setting is introduced after the bodyguard makes his appearance. Everything I drew from the box is secondary to something more haunting going on in the background, from this place no one can see.
Again I don't want to commit to this until I have you guys opinion... but, damn I love the idea of this. I still have the comedy angle to consider but I am very strongly feeling this direction.
Anyway, please give me your honest thoughts I can understand if you guys still would prefer the comedy angle. Let me know people!
Over & Out,
xXStItChXx